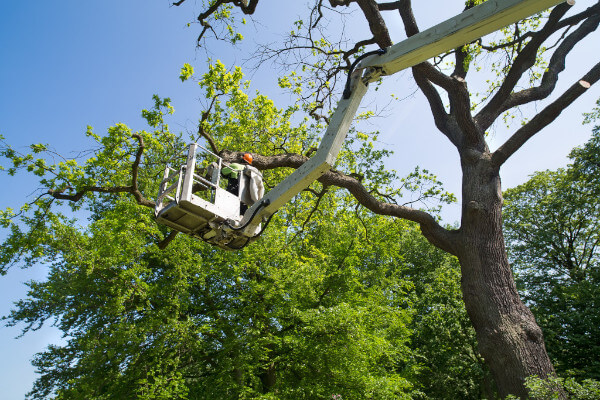 Tree emergencies and how to deal with them.
Storms can affect trees in different ways. The effect is influenced by lots of factors including wind direction and speed, rain duration and intensity, location, health and age.
Trees are great at adapting to a change in conditions but this is a slow process that takes decades; they can't adapt to a single change in weather due to a storm, of course.
Tree emergencies due to storms can take many forms. Storm damage is often different from the damage caused by floods. Of course, both can happen simultaneously.
Tree Emergencies Caused by Storms with Flooding
Lots of places around the world have natural floods annually. The shrubs and trees native to these parts have been able to adapt to prolonged periods with their roots submerged.
There are problems if non-native species are introduced in these areas because they have not adapted to being submerged in water since their native areas do not experience flooding.
When the soil is waterlogged, there is a decline in its ability to sustain life. This happens because the available air in the soil is swapped for water. This means that the roots do not have access to essential oxygen supplies.
This means that damage can happen in as little as three hours. Being submerged in water kills the tree's fine root hairs. This means the tree's water-absorbing ability is seriously affected. It cannot take up nutrients and water until the water level falls.
When a tree is deprived of oxygen, there is a build-up of gases that lead to the larger tree roots dying. This can affect the tree's stability.
What's more, flooding causes the soil's structure to deteriorate. Particles of clay lose their stickiness, which reduces the soil's aptitude to grip onto the roots. This means that trees are more likely to fail at the root plate level.
Floodwater also affects the pH of soils. This means that the levels of nutrients and minerals could be affected.
All in all, when soils are flooded, there is both a long-term and immediate effect on tree longevity and health. The longer the flood persists, the worse the problem.
Flood Stress Seen in Trees
Tree flood stress is not always visible immediately. It manifests itself in a variety of ways, including:
A reduction in the size of leaves for new growthYellowing of leaves (chlorosis)Epicormic branch and stem growthsCrown diebackLack of new leaves in spring or defoliationEarly change of colour in autumn as well as early falling leavesProlific mast or seed crop the year after the flood
Care for Flood-Stressed Trees
Caring for a tree after floods impacts on its survival chances as well as the tree quality that remains.
Here are some steps to help:
Remove any build-up of sand or silt so that the soil is back to its normal level. Make sure you also look to cover any roots that have been exposed. This should be done with topsoil.Incorporate organic or composted material like mulch into the topsoil to improve its structure. Make sure you do not damage any roots. Professional tree surgeons will use something called an 'air spade' for this task.A layer of mulch or other organic, composted material will help the soil to retain its moisture. Try not to add anything like fertiliser because it uses a lot of the tree's energy.Watch out for colonisation. Stressed trees often have trouble fighting off secondary organisms like insects, fungi, and bacteria.
Storms with no Flooding
When there is no flooding, the main issue with storms is the wind. Trees are susceptible to storm damage when the force of the wind exceeds the tree's structural strength. This type of storm damage is very obvious; you will often see large parts of the tree snapped or even a whole tree uprooted.
Some storm conditions might cause less obvious damage. Limbs and stems can have fractures while remaining intact. Trees also might be uprooted partially but don't fall over. There might be broken branches that haven't fallen.
If the storm involved lightning, you might notice large wounds in the tree's bark. Lightning strikes can also result in the tree's destruction. Once subjected to a lightning strike, there is not much that can be done to help a tree.
Luckily, it is rare to see such major storm damage and proactive, expert tree management means you can reduce the risks.
Why be Proactive?
Proactive tree work is cost-effective since you can protect your trees with the highest risk and greatest value. Tree work can be scheduled and planned and will avoid those emergency call-outs (and their cost) if there is storm damage.
Unfortunately, with climate change, we are likely to see lots more unsettled and stormy weather. If we want trees to survive well, we need to make sure they're inspected frequently and well managed.
It's a good idea to seek comprehensive tree assessments with experienced tree surgeons and tree consultants. They will be able to advise tree owners and help them keep their trees safe as well as healthy.
According to statistics by the Health and Safety Executive (HSE), there are around 5 or 6 people killed each year in the UK due to falling branches or trees. Around 3 of these occur in a public space.
Of course, this makes the risk of being killed or struck by a tree extremely low; these numbers mean the risk is about 1 in 10 million. Despite the low level of risk, we need to consider how the public perceive the level of risk, especially if there has been a recent incident. Thus, tree owners should take great care in ensuring they look after their large trees.
Final Thoughts
While typical weather events can help to strengthen trees, excess forces or waterlogging from storms can cause problems. With consistent conditions, trees can adapt and initiate developmental changes to compensate for changing weather patterns.
Thanks to their biological engineering, they can adjust to loading, if the conditions are typical. When storms, floods, ice, or snow occur, the trees might not fare well. Extreme forces cause damage, injuries and even tree death. You can protect your trees with regular tree care by expert tree surgeons.
Article was written by Louise W.
Article Source: https://www.graftingardeners.co.uk/tree-emergencies/